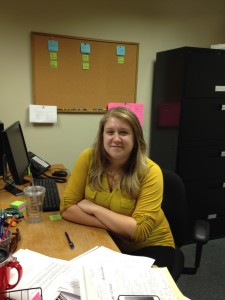 Anabel Lee Genevitz has joined the Regional Housing Legal Services (RHLS) team as our Communications Associate. She looks forward to spreading the word about our work and using technology to advocate for vulnerable individuals and communities in Pennsylvania.
Anabel grew up in South Philadelphia, where she lived in a diverse community that demonstrated the importance of strong neighborhood ties for a good quality of life. Wanting to share these experiences, she has devoted her professional and academic life to helping other communities address barriers to serving its members.
Anabel graduated from Arcadia University in 2013 with a degree in Sociology and a minor in Women's and Gender Studies. She first became involved in the fight for housing and services as a volunteer and intern at Project HOME, a partner of RHLS. She later joined Project HOME's Development and Fundraising team as she found her talents in writing, speaking, and analysis could be used to support its goal of ending homelessness in Philadelphia. Currently, she is pursuing her Master's Degree in Social Work at Temple University.
When Anabel isn't working, you'll likely find her cooking, knitting, enjoying a good book, watching the Philadelphia Eagles, or hanging out with her little sister, Ava.
Feel free to say hello on Twitter, Facebook, or at agenevitz@rhls.org.