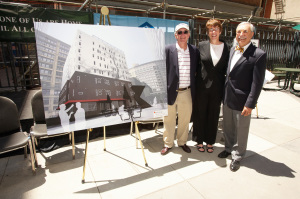 Regional Housing Legal Services (RHLS) is a nonprofit law firm with unique expertise in affordable, sustainable housing and its related components — community and economic development, utility matters and preservation of home ownership. RHLS provides innovative project and policy solutions that help create sustainable communities offering decent, safe and affordable housing for lower-income Pennsylvanians.
Mission
Our mission is to work to create housing and economic opportunity in under-served communities in Pennsylvania and to effect systematic change for the benefit of  lower-income households statewide.
RHLS achieves its mission by:
Providing free legal services and technical assistance to community-based organizations that develop affordable housing and engage in economic development activities that benefit low-income people;
Informing, training and supporting consumers and those who serve consumers, on housing and utility issues; and
Engaging in policy analysis and promoting system innovations focused on critical housing, economic development, neighborhood revitalization and utility issues.
History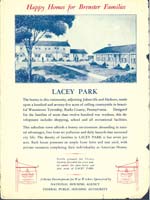 Regional Housing Legal Services was created in 1973 to address landlord/tenant issues in what was then known as Lacey Park, a 110-acre development with 1200 homes established for World War II defense workers in Bucks County. Under the leadership of Lorry Post, who had been Executive Director of the Bucks County Legal Aid Society, RHLS helped create a nonprofit housing coop within Lacey Park to address the slum conditions.
Since then, RHLS has continued to demonstrate a steadfast commitment to community control and neighborhood revitalization. In the past four decades, RHLS has acted as a leading force behind many key policy and systemic changes made in Pennsylvania on behalf of the disenfranchised, and has been involved in the development of thousands of units of affordable housing throughout the state.
Today, RHLS has offices in Glenside, just north of Philadelphia; Harrisburg; and Pittsburgh and provides direct representation to approximately 60 community-based organizations per year, works to shape housing and community-development policy across Pennsylvania, and offers programs to meet the needs of some of our state's most vulnerable.
Learn More About Our Recent Projects