Highlighted Accomplishments
Each year, RHLS provides direct legal and technical assistance to over 60 community-based groups that produce hundreds of affordable housing units and that implement economic development projects to revitalize communities throughout Pennsylvania.
This page highlights some of our development-related accomplishments. You can also learn about our policy successes.
Wood Street Commons, Pittsburgh
Everyday for the last two years, the tenants at Wood Street Commons — a 16-story, 258 unit affordable housing and retail/office complex in downtown Pittsburgh – feared that the place they called home would close. On September 2nd, their concerns were replaced with hope when they heard the news that their home at 300 Wood Street was secure as foreclosure of this long-standing Pittsburgh institution was averted with the sale of the property to the Residences at Wood Street, a newly formed non-profit partnership.
RHLS successfully crafted a timely and innovative use of Neighborhood StabilizationProgram (NSP) funds to prevent foreclosure of large-scale mixed-use development projects, which are typically used to return single-family housing back into productive use. RHLS also played a significant role in bringing together key partners and providing complex regulatory, financial and legal advice that resulted in the preservation of an important source of affordable housing and a vital community asset. The value of Wood Street Commons extends far beyond downtown Pittsburgh as it serves as a best-practice model for replication across the Commonwealth.
Learn more about Wood Street Commons:
"Is shelter Downtown in danger of closing?" Pittsburgh Post-Gazette, October 27, 2008.
"Stimulus funds to prevent foreclosure on low-income housing facility", Pittsburgh Post-Gazette, June 11, 2009.
Health, Housing, and the Government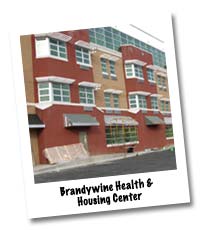 The Brandywine Health & Housing Center development in Coatesville marks the first time that the U. S. Department of Agriculture (USDA) has used community facilities funding to support both healthcare and housing. RHLS' work with the Brandywine Health Foundation development produced a diverse funding model that combined USDA funds with Pennsylvania Department of Community and Economic Development (DCED) funds, Community Development Block Grant funds, Pennsylvania Housing Finance Agency (PHFA) funds and Low-Income Housing Tax Credits (LIHTC).
As a result, government funders are expanding traditional thinking about funding comprehensive approaches to affordable housing. Specifically, they are exploring ways to make health issues a factor in assessing the potential impact of community revitalization across Pennsylvania.
Clairton Southside Neighborhood Project, Pittsburgh
| | |
| --- | --- |
| Before photo courtesy of GAI Consultants. | After photo courtesy of Kyna Damewood. |
Read about this project in the Journal of the Allegheny County Bar Association.
Homelessness in Philadelphia

RHLS is assisting Project H.O.M.E. and Bethesda Project in working with St. John the Evangelist Church in the heart of Center City to develop an eight-story affordable housing facility that will contain 24 single room occupancy units with private baths, and 56 efficiency apartments.
This $26 million development provides a potential model for addressing homelessness statewide.
Photo courtesy of Harvey Finkle.
Low Income Seniors
RHLS is working with one of the largest landowners in Southeastern Pennsylvania—the Archdiocese of Philadelphia—to structure the redevelopment of a strategically located former school building in South Philadelphia to benefit lower income seniors.